Summer Corn Salad with Cucumber Cumin Dressing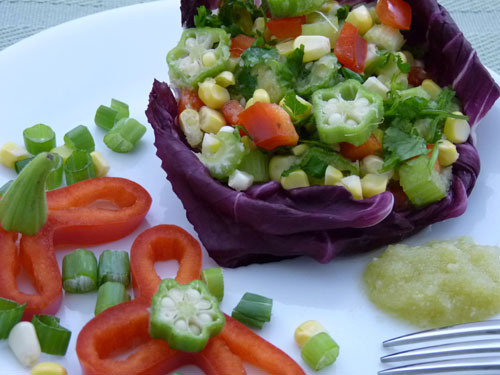 Local farmer's markets are abundant with fresh fruits and vegetables at this time of the year. Make visits to the market a family activity for fun, education and to gather the ingredients for your next meal, which can be this refreshing, flavorful salad. If you are not used to bitter taste in your meals, replace radicchio with lettuce or other leafy greens.
Recipe Author: Beautiful on Raw
Preparation Time: 20
Serves: 3
---
Ingredients:
corn (GMO FREE) kernels from 3-4 cobs
4 celery stalks, chopped
5-6 okra, chopped
1/4 cup cilantro, chopped
1 red bell pepper, seeds removed and chopped
leaves from radicchio (can use lettuce, collards, Swiss chard) for bowls
green onions, chopped, for garnishing
Dressing:
2-2.5 cups cucumber, peeled and cut into chunks
1 tsp. ground cumin
juice of 1 lime, or more to taste
½  – ¾ tsp. Celtic sea salt, or to taste
Combine corn, celery okra, cilantro and pepper in a salad bowl and mix them all together. In a food processor prepare the dressing out of cucumber, cumin, lime juice and salt by blending them together. Pour the dressing onto the salad and thoroughly mix. Serve in radicchio leaves and garnish with green onions.
Ingredients: celery, cilantro, corn, cucumber, cumin, green onion, lime, okra, sweet pepper
Recipe Type: Salad