Ginger Kale Salad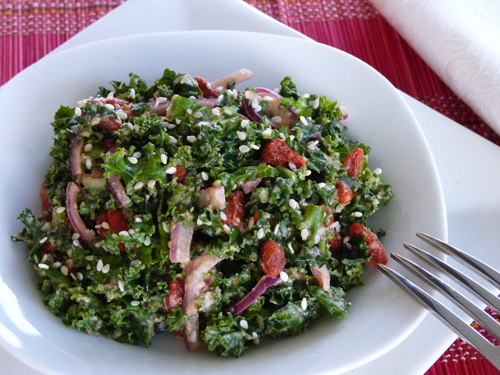 This salad is a nutritional powerhouse, featuring yet another way to load up on kale.
Recipe Author: Beautiful on Raw
Preparation Time: 30
Serves: 4
---
Ingredients:
Salad:
4-5 cups packed kale leaves, stems removed, and leaves thinly sliced
½ cup red onion, peeled and thinly sliced
½ cup dried goji berries
½ tsp. pink Himalayan sea salt
2 Tbs. fresh lemon juice
Dressing:
¾ -1 cup fresh grapefruit juice
2-3 dried figs
1 tsp. ginger, peeled and chopped
¼ cup hulled sesame seeds
Soak the goji berries and figs in water in two separate bowls for about 15 min. Place kale leaves in a big bowl, add salt and lemon juice, and massage with hands thoroughly. Add onions, mix them in with kale, and let sit for 15 min. to soften. Prepare the dressing by blending all the dressing ingredients, including the soaked figs (having discarded the water) in a high speed blender. Drain the goji berries and mix into the salad. Pour the dressing over the salad and mix well to cover all ingredients. Sprinkle with sesame seeds.
Ingredients: figs, ginger root, Goji berry, grapefruit, kale, lemon, red onion, sesame
Recipe Type: Salad