Tomato and Watermelon Thyme Salad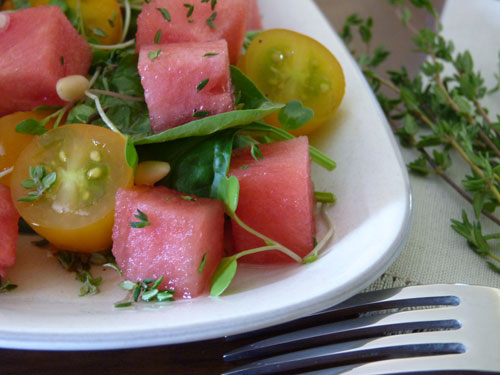 Tomatoes and watermelon – the flavorful gifts of the end of summer – find union in this surprisingly satisfying and refreshing salad.
Recipe Author: Beautiful on Raw
Preparation Time: 15
Serves: 3
---
Ingredients for the salad:
3 cups watermelon, peeled and cubed
2 cups yellow grape or cherry tomatoes
1 ½  cups spinach leaves
½ cup arugula or any baby greens
½ cup pine nuts, unsoaked
2 tsp. fresh thyme leaves
Ingredients for the salad dressing:
¼ cup apple cider vinegar
3 Tbs. honey
½ tsp. salt
dash black pepper
Prepare salad dressing by blending all dressing ingredients in a food processor or blender. Gently toss together all salad ingredients in a bowl, and add the dressing just before serving.
Ingredients: Arugula, pine nuts, raw honey, spinach, thyme, tomato, watermelon
Recipe Type: Salad