Spaghetti and Seedballs with Marinara Sauce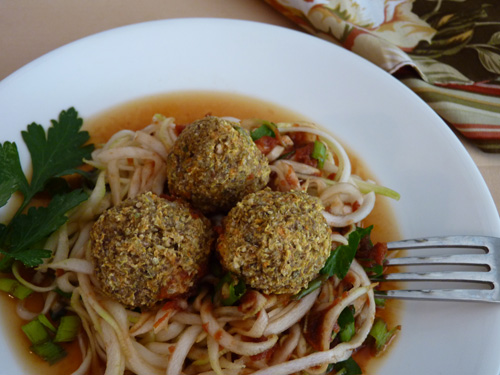 Mostly, I like raw food that looks raw. But many of us occasionally enjoy the nostalgia of when a plate of delicious and healthful raw foods reminds us, visually, of favorite dishes from our old days. Here's a gem. This recipe will make enough for a potluck, or a big family. And it's a great way to use up your abundant harvest of zucchinis.
Recipe Author: Beautiful on Raw
Preparation Time: 45
Serves: 6
---
Ingredients:
Spaghetti:
1 ½ to 2 really big zucchinis, or a few medium-sized ones.
Seedballs:
2 cups of sprouted buckwheat groats

1/3 cup ground flax seeds

½ cup ground pumpkin seeds, soaked for 4 hours

3 celery stalks, chopped

2 medium carrots, grated (about 1½ cups)

2 garlic cloves, peeled and finely chopped

1 tsp. sea salt, or to taste

1 tsp. onion granules (optional).
Marinara sauce:
5 big Roma tomatoes

1 cup sun-dried tomatoes, soaked for 30 min, then drained

1-2 garlic cloves

1 tsp. sea salt

2 Tbsp. green onions, chopped

1 Tbsp. fresh lemon juice

chopped parsley leaves and/or green onions to garnish
Prepare the seedballs by running all its ingredients through a food processor. Next, form small, walnut-sized balls. Place in a dehydrator on a Paraflex sheet. Leave the balls to dehydrate overnight at 104º. Next morning, turn them over and place on the mesh sheets for a couple hours more. The balls should remain soft inside, but form a crust on the outside. Place them in a separate container when ready.
To make the marinara sauce, process all ingredients in a blender or food processor until the mixture becomes totally smooth. (Or leave it a little chunky if you prefer.) Transfer to a lidded container.
Peel and spiralize zucchini to form spaghetti noodles—enough to fill a big salad bowl.
If you're making a big potluck dish, bring the three parts of the recipe as separate dishes, and assemble just before it's time to eat. Pour marinara sauce on the noodles, and arrange the seedballs on top. Sprinkle with chopped green onions or parsley. Your guests—including those who haven't yet gone raw will be impressed!
Please Note: Preparation time is 45 minutes plus time for soaking and dehydrating. This recipe makes about 30-33 seedballs, a big bowl of pasta, and 2 to 3 cups of marinara sauce.
Ingredients: zucchini, flax seeds, pumpkin seeds, celery, carrot, garlic, sundried tomato, tomato, green onion, lemon
Recipe Type: Main Course