Creamy Broccoli Cashew Salad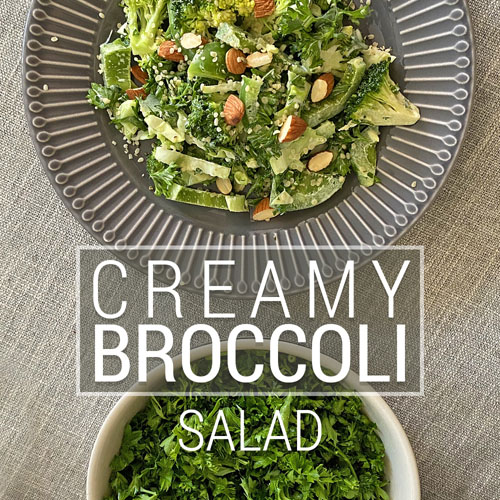 I my first book Your Right to be Beautiful: The Miracle of Raw Foods I wrote:
"Whole raw foods restore the integrity of every cell and facilitates the optimal operation of every organ inside and out. The body, having been awakened by the improved diet,in its wisdom, will reach out to the places where health was lacking, and you will gradually see your vitality level rising and your beauty surfacing." Remember it when you prepare your every day meals.
Try this delightful summer combination of creamy hemp seed & cashew dressing with fresh veggies.
Recipe Author: Beautiful on Raw
Preparation Time: 15 min
Serves: 2
---
Ingredients:  
Salad:
1 green bell pepper
1 cup broccoli florets
1 cup cabbage
½ bunch parsley
Almonds and hemp seeds for serving
Dressing:
⅓ cup hemp seeds
⅓ cup soaked cashews
1 Tbsp olive oil
1 Tbsp water salt & pepper to taste
1 garlic clove 1 tsp apple cider vinegar
Soak the cashews overnight. Then add all the dressing ingredients to the blender. Blend until smooth and creamy. Chop the vegetables into small pieces, chopping the greens especially finely. Mix the salad with the dressing and serve.
Ingredients: broccoli, red cabbage, parsley, almonds, hemp seeds, cashew
Recipe Type: Salad