Butternut Squash Soup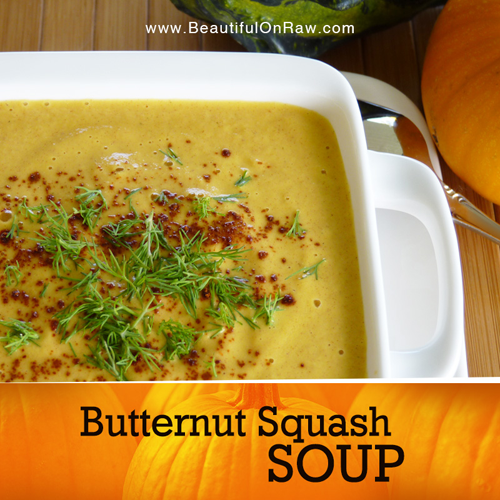 A mouthful of creamy soup tastes so good when the fall chill comes! Serve slightly warmed for a superb culinary experience. An especially nice luncheon soup around Thanksgiving or even Christmas.
Recipe Author: Beautiful on Raw
Preparation Time: 20 minutes plus time for soaking.
Serves: makes about 4 cups of soup.
---
Ingredients:
1 cup hemp seeds (or any other nuts or seeds you choose)
2 cups water
1 carrot (about ½ cup), grated
2 cups butternut squash, peeled and cubed
½ persimmon, sliced (optional)
5 Medjool dates, soaked, pits removed, chopped
1-2 Tbsp. raw honey
¼ tsp. sea salt
2-3 Tbsp. fresh lemon juice
½ tsp. ground cinnamon
¼ tsp. ground nutmeg
pinch ground ginger
¼ tsp. each garlic and onion powder (optional)
fresh chopped dill and paprika to garnish.
Directions:
Prepare hemp milk by blending hemp seeds and water together in a powerful blender, then strain through the nut milk bag, squeezing the bag well. Save the pulp for another recipe. Pour the milk (2 cups) back into the blender, add the rest of the ingredients (except dill and paprika) and blend on high. Adjust the taste by adding more salt, lemon juice, spices or dates. Run the blender until the soup is warm to the touch if serving right away, or store in the fridge till ready to serve. You can warm it lightly in a pot, then. Garnish with dill and paprika when serving.
Ingredients: hemp seeds, water, carrot, butternut squash, persimmon, Medjool date, raw honey, sea salt, lemon juice, cinnamon, nutmeg, ginger, garlic powder, onion powder, dill, paprika
Recipe Type: Main Course