Citrus Fruit Salad with Poppy Seed Dressing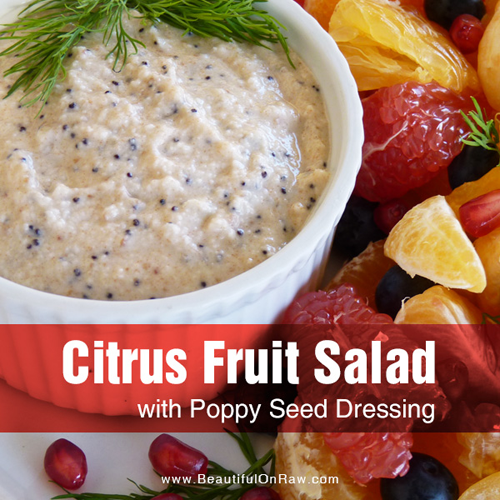 Love citrus fruit? Enjoy it as a salad. The combination of sweet and sour fruits with a nut-based dressing will satisfy your taste buds and works great as a meal in itself.
Recipe Author: Beautiful on Raw
Preparation Time: 30 minutes.
Serves: 4 to 6.
---
Ingredients for salad:
5 tangerines, peeled and separated in sections
2 oranges, peeled, separated into sections and cut in halves
1-2 pink grapefruits, peeled, white pith removed, separated in sections and cut in pieces
1/3 cup blackberries
1/3 cup pomegranate seeds
a few dill fronds for garnish.
Ingredients for salad dressing:
1 cup macadamia nuts
1 tsp. red onion, peeled and chopped
1 tsp. ground dry mustard
1/3 cup apple cider vinegar
1/3 tsp. Celtic sea salt
5 Medjool dates, pits removed, soaked for 30 min., drained and chopped
½ cup of soaking water from dates
1 Tbsp. poppy seeds.
Directions:
Prepare the dressing by blending all the ingredients except poppy seeds in a blender until smooth. Add more water if needed to get the standard creamy dressing consistency. Transfer to a bowl, add poppy seeds and mix them in with a spoon. In a separate bowl, combine all the fruits and berries, add some salad dressing, and gently mix everything together. Place some dill fronds on top for color. If you have to store the salad for some time, keep it in the refrigerator and add the dressing and dill just before serving.
Ingredients: tangerine wedges, orange, grapefruit, blackberry, pomgranate seeds, dill, macadamia nuts, red onion, mustard, apple cider vinegar, sea salt, Medjool date, water from dates, poppy seed
Recipe Type: Salad