Christmas Tree Crudités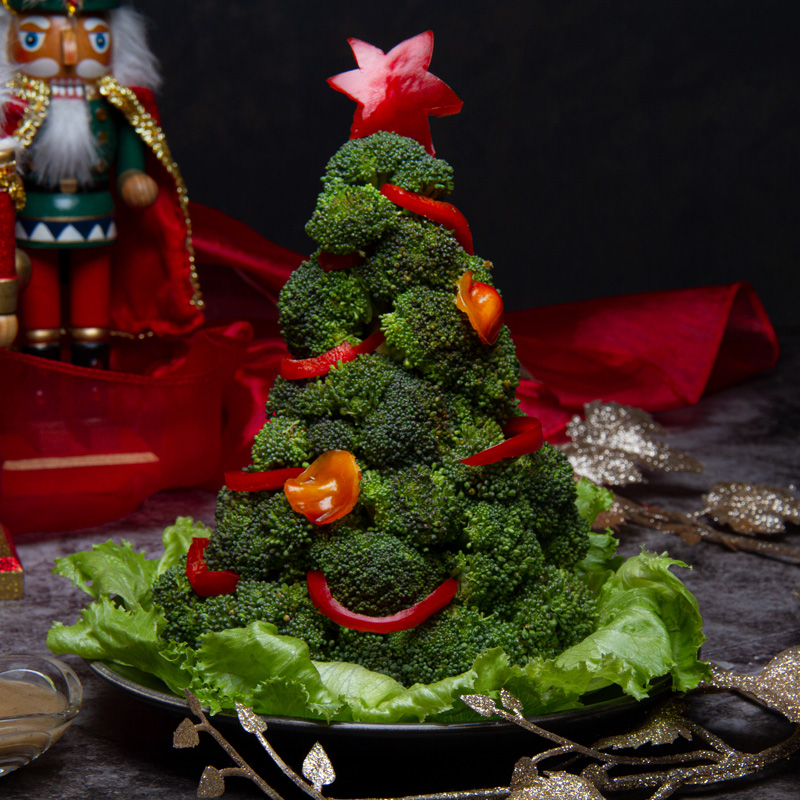 You could serve this recipe in a salad bowl, and it would work fine, in flavor, at least. But it's presentation that makes it special.
To decorate the table, let us make a Christmas tree with raw vegetables—broccoli, colored peppers, cherry tomatoes. For assembly, we need an anime cone and wooden toothpicks. And a yummy almond butter sauce to go with these veggies.
Recipe Author: Beautiful on Raw
Preparation Time: 25 min
Serves: 4
---
Ingredients:
1 large broccoli
1 red bell pepper
1 yellow bell pepper
10 cherry tomatoes
2 cups mixed lettuce
an anime cone, and wooden toothpicks
For the sauce:
 ½ cup almond butter
4 Tbsp of lemon juice
4 Tbsp of olive oil
1 tsp fresh ginger grated
½ Tbsp of raw honey
salt to taste
Instructions:
Wash the broccoli and cut it into florets of similar size. Insert a wooden toothpick into each broccoli stalk and stick to the anime cone. Cut the lettuce into small pieces, inserting the pieces where you see empty spaces between broccoli florets and at the tree's base. Wash the peppers, removing the stem and seeds. Cut them into thin strips to make garlands.
Hold the pepper strips with toothpicks and pin them to the tree. Prick each of the cherry tomatoes with a toothpick and, with the other end, pin them to the tree. Using a cookie cutter, make a pepper star and decorate the top of the tree.
To make the sauce, mix all the ingredients in a bowl and beat with a hand mixer until homogeneous. Serve your vegetable tree, accompanied by the sauce.
Ingredients: broccoli, red bell pepper, yellow bell pepper, cherry tomatoes, almond butter, ginger, raw honey
Recipe Type: Salad