Strawberry Salsa Salad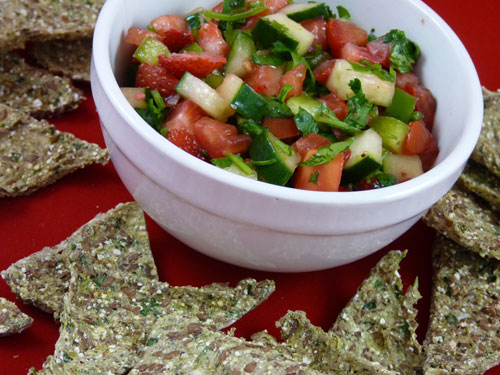 Adding strawberries to the traditional salsa recipe creates a mellow yet tangy delightful dish that can be served with crackers or as a salad.
Recipe Author: Beautiful on Raw
Preparation Time: 15
Serves: 4
---
Ingredients:
1 ¼ cup cucumbers, diced
1 cup Roma tomatoes, diced
1 cup cilantro leaves, diced
1 cup strawberries, de-stemmed and diced
½ cup green bell pepper, diced
2 tsp. Jalapeño pepper, diced
2 Tbsp. extra-virgin olive oil
4 tsp. lime juice
¼ tsp. Celtic sea salt or to taste
Place all ingredients into a bowl and toss gently. Keep in a cool place.
Ingredients: cilantro, cucumber, hot pepper, lime, strawberry, sweet pepper, tomato
Recipe Type: Salad