Your Basic Beauty Bowl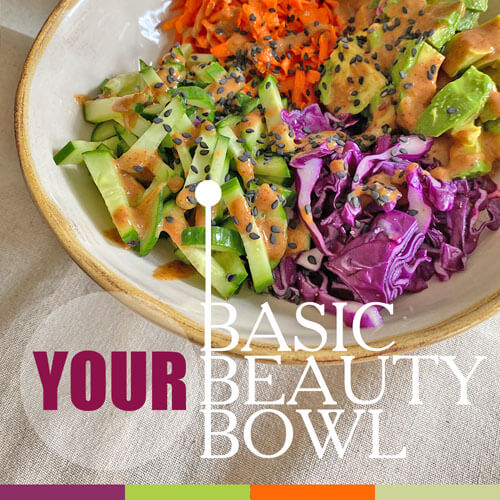 ---
Bowl:
4 Tbsp chopped red cabbage
4 Tbsp chopped carrot
1 chopped avocado
3 Tbsp chopped cucumber
2 lime slices sesame seeds for serving to taste
almonds or pecans for serving to taste
Sauce:
2 Tbsp raw almond butter
2 Tbsp coconut aminos
2 Tbsp water
1 chopped garlic clove
1/3 tsp chopped fresh ginger
salt to taste
Combine all the sauce ingredients in a blender and blend till smooth. For the bowl, chop the cabbage, carrots and cucumber. Chop the avocado into small pieces. Chop the nuts finely. Put all the ingredients in the bowl except the nuts and sesame seeds. Toss with the sauce and stir. Sprinkle the nuts and sesame seeds on top.
Ingredients: red cabbage, carrot, avocado, cucumber, sesame seed, almonds, pecans, almond butter
Recipe Type: Salad